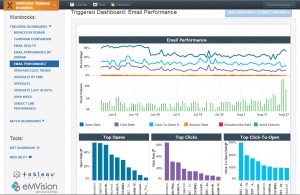 What if your email reporting was depicted in easy to grasp visuals, like color coded charts and graphs?
What if you could spot trends in seconds–and respond to them in minutes?
What if you could zero in on a complex data point with a simple click of your mouse?
What if you could see what you've been missing in your email reporting?
No more "what ifs," because now you can. All of these capabilities and more are suddenly possible thanks to an integration of ExactTarget and Tableau Software. That integration is eMVision. Built by ClickMail, it's here to make your email smarter by helping you see what matters.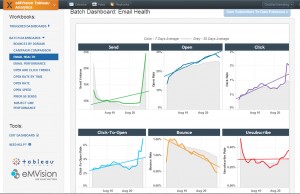 Announcing eMVision
Marketers using ExactTarget as their email service provider know they benefit from a lot of data and powerful email reporting. But to be able to take that data, turn it into insights and then push those insights back into retargeting segments…well, that was a different story…until eMVision.
Developed by the email experts at ClickMail, eMVision is an interactive visual reporting and retargeting tool for ExactTarget users. It combines the data in ExactTarget with the powerful visualization features of Tableau Software, enabling marketers to analyze data much more easily and quickly—not just with email data, but with other sources like Google Analytics and internal business systems too.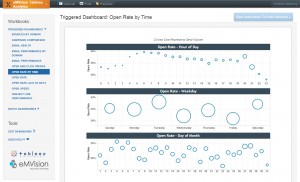 It both simplifies and supercharges your email reporting, so you can see what really matters and it helps you retarget your campaigns directly through the platform, taking your marketing to a whole new level. Marketers can quickly see new trends; identify, and target new segments; and build new custom reports. You can also easily blend data from your web analytics, ecommerce platforms and other internal business systems with Tableau. You'll get the clear insights you need to make your email program smarter. You'll understand your performance results more quickly, more completely, and you'll make better decisions, faster.
But eMVision does even more than tap into that all that data in a visual way: eMVision lets marketers put that data gleaned back into ExactTarget, reacting immediately to target a likely segment or retarget a non-responsive one. eMVision offers powerful visual reports that enable marketers to immediately spot trends…and then act on them.
eMVision is simple to use. Marketers can simply ask the questions of the data and get immediate answers. eMVision makes it possible to do in minutes the kind of analysis that used to take hours, or even days.
See eMVision at work
Download more information on eMVision, or better still, if you're an ExactTarget user (or you're considering ExactTarget as the best email service provider choice for your new ESP), you can see eMVision in action when we unveil it this week at ExactTarget Connections 2013.
If you can't stop by our booth at Connections, no worries! Just call 866-418-4877 x2 to see a demo.
And see what matters.