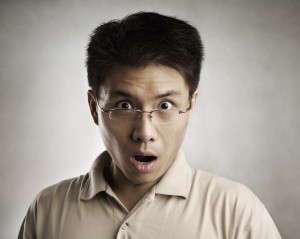 They say ignorance is bliss, but in truth it's expensive—especially in the world of email. So let's take a few minutes to talk about some topics that usually don't come up during sales pitches or negotiations when considering email service providers. At ClickMail, we often see clients confused by these six areas because they are making some assumptions that they maybe shouldn't. Then later on, this ignorance leads to hassles, headaches and occasionally hard feelings.
So let's shed a little light on them. If you're in the process of choosing a new ESP, this information will help you with your email service providers comparison. If you're already signed on with an email service provider but perhaps the relationship is a little rocky, this information might help to clear up some confusion.
I'm calling these the "6 Ds" although that's kind of a stretch when it comes to naming them, as you'll see. But I hope calling them the "6 Ds" will help you remember them when you're either doing an email service providers comparison or evaluating the performance of your existing ESP. Ready? Let's "dive" in!
Downtime
The ESP is promising you 99.xx% uptime, wow! That's like no downtime at all, right? Hold on. It's not what you think. Although the percentage of uptime might look great, like a tiny "blip" in the 365 days of a year, that wee bit of downtime can actually be days. Think about it: What's 99% of 365? 361.35 days…leaving 3.65 days of downtime…days!
Maybe your business can risk over 3 ½ days of no ESP service, and maybe not. It depends on your business and how much you rely on your email marketing for revenue generation. It also depends on when this downtime happens to fall—like say on one of your busiest days. Plus that 3 days could be an hour here, and an hour there, all throughout the year and suddenly, you're looking at multiple outages. Ouch.
No ESP can guarantee 100% uptime, but find out everything you can about that ESP's track record and how they handle those situations when they do occur. Are they proactive in notifying clients when there's a problem? Do they follow through after the fact and offer information on not only the outage but the steps they are taking to prevent another one? You not only want the problem fixed a.s.a.p. You want to feel comfortable that the ESP is working to ensure it won't happen again.
Deliverability
Every email marketer knows the importance of email deliverability. Many marketers mistakenly assume they can rely on the email service provider to ensure the highest possible deliverability rate. However, that's not really the ESP's job. The deliverability part of your email marketing mostly falls on your shoulders. Your ESP will send all of your emails, but can only do so much to deliver all of your emails.
Don't misunderstand me: The email service providers care about deliverability, and they work hard to maximize it. They have a team of deliverability experts. They closely watch overall deliverability rates. They kick out bad senders. But the email reporting you get from your ESP is based on emails sent, not emails delivered.
Most importantly, it's your sending patterns and behavior that will determine your ultimate deliverability rate. Are you adhering to best practices to maximize your deliverability and inbox placement rate?
In addition, email service providers vary in the deliverability they can achieve. One ESP might be able to pull off a 98% deliverability rate for Company A but only 96% for Company B (which hearkens in part back to the best practices these companies are adhering to). If you're doing an email service providers comparison and the ESPs are giving you "their" deliverability rate, dig a little deeper because it might not be your deliverability rate. Also ask about the breadth of the in-house deliverability team and the skill set of the people who make up that team.
Differences
Email service providers vary only a little in the primary functionality they offer: Most of what you need is available with most ESPs. However, that said, a lot of the functionality and features offered by ESPs goes unused.
Much of the real difference is in the execution, or interface, and one way might work better for you and your team than another. For example, every ESP you're considering might offer A/B split testing, but how the functionality is set up might vary a lot between the ESPs. Remember that how something gets done is as important to consider as what can get done.
So be aware of what you're really buying, when you're shopping. Dig deeper. What is the difference? And does it matter? Does the difference fit your needs? Or is it a shiny thing that is only a distraction? And how does the functionality actually work? Look for the differences, yes, but look for the differences that matter to your organization and overall goals.
If you already have an ESP, consider looking into some of the functionality you haven't been using. You might find the solutions to some problems. You could even save yourself an expensive integration by finding out you can do exactly what you want with the existing platform!
Document (a.k.a. SLA)
As much as you do not want to read the Service Level Agreement (SLA), someone should. In the event that something goes south, whether the technology, the relationship or something else, you do not want to be blindsided. And you might be surprised at what's in there. If you have a legal department, you're in luck as they can comb through the SLA for you (and understand it). Whoever reads it, make sure someone reads it and that you fully understand what you're agreeing to.
Dollars (a.k.a. Compensation)
While reading through the SLA, you will probably realize there won't be any compensation if things go wrong. Remember that first point about downtime? If you lose money due to an outage or some other glitch that prevents you from using the platform, you probably won't get it back. Keep that in mind when reviewing an ESP's track record for performance!
Data protection
And finally, the data. Your customers and subscribers aren't trusting your ESP with their personal information: They are trusting you. And guess what? That data protection really is your job and not the vendor's. Yes, the ESP should be doing everything within their power to protect this information, but the responsibility lies on you. Keep that in mind, and don't expect the ESP to cover for you in this critical area.
It's not all doom and gloom
These 6 Ds aren't meant to dishearten or discourage you, only to make you more aware of what you can expect from an ESP—any ESP. It's not as if we live in a world of bad ESPs and good ESPs. It's not black and white, cut and dry, choose this one and not that one…not at all. It's just that this is the way the world works, and you're likely going to have the same issues no matter the vendor you choose.
And consider using a consultant to help you figure this all out, whether you're looking for an ESP or struggling to improve relations with an existing one. A consultant will be objective, and much more aware of topics such as these, as well as realistic expectations. A good consultant will already know the strengths and weaknesses of the major ESPs too, helping you get to a short list sooner, if it's a new ESP you're after.
If you'd rather not bring in a third party, definitely use some third-party (i.e. neutral) tools to help with your search. We have two we've created, both of which are kept up-to-date and available to you for free. These can be useful when you're in the market for a new email service provider or when you're seeing how your current ESP stacks up:
Our annual ESP guide can help you choose by educating you on what to consider and questions to ask. (And the 2016 one is due out any day!)
The ESPinator is a free online tool already used by over 1,000 marketers. You answer questions about your email program and goals, and the ESPinator suggests your top three options.
And of course you can always call on ClickMail for help!