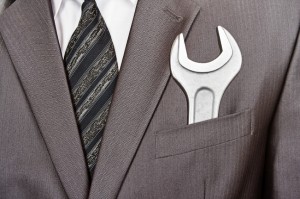 ClickMail's Michael Kelly spoke this month at Fashion Digital in Los Angeles on a much-anticipated topic (judging by all of the tweets before, during and after): What switching ESPs won't fix.
Since email marketing is a key part of almost any industry's marketing makeup, not just fashion's, and because the topic was so anticipated and well-received at Fashion Digital, we present the highlights from Michael's presentation below. If you're considering a new email service provider because you're frustrated with your current one, first review Michael's list to make sure switching will help.
1. Switching email service providers will not fix deliverability problems.
Deliverability is such a key component of email marketing that you might think it's a big reason for switching email service providers—but it's not. The biggest reason for switching ESPs happens to be customer service complaints. And that's probably because a new ESP won't fix deliverability problems because most deliverability problems are internal.
Think about it: How can any ESP stay in business if they don't offer excellent deliverability? They can't. So fingers can't be pointed their way when deliverability fails to…well, deliver.
There's so much to be said about improving email deliverability that we won't go into it here. Suffice to say that improvement won't come about because you have a new email service provider. It will only come about when you take the steps necessary to fix the problems on your own.
Michael did present one caveat, however: If deliverability problems are the result of someone else's bad behavior in a shared IP pool, then yes, it is the ESP causing the problem by allowing that to happen.
2. Switching email service providers will not fix mobile email problems.
Nor will switching email service providers fix mobile email problems. And with at least 50% of emails being opened on mobile devices, this matters—almost as much as deliverability does. How much patience do mobile email users have for clunky emails designed for desktops? Very little: Studies show about 70% of mobile users will delete an email unread if it's not optimized and about 20% will either unsubscribe or flag the email as spam. Obviously optimizing for mobile is necessary, but—like deliverability—it's something you handle internally by adapting a mobile-first design for your templates, not by switching platforms.
Not being mobile ready also affects deliverability, because all of those unengaged customers who are deleting emails from their smartphones are telling the ISPs that they don't want your email…and the ISPs will start treating your email as spam as a result.
3. Switching email service providers will not fix engagement problems.
And all this talk about deliverability is a great segue into engagement! To engage your audience, you have to deliver great content that is of interest to your audiences. But how do you know what interests them? You find out. You use a preference center or profile center to gather more information. You track their behavior with your emails and on your website to see what interests them. Neither of these actions involves your email service provider, nor can you reasonably point a finger of blame toward your ESP if your audience is bored with your content. Swithing ESPs won't fix a lack of engagement. Learning what your audience wants and delivering it will. And engaging your audience will in turn help your deliverability too.
4. Switching email service providers will not fix data problems.
"Content is king, but data is emperor," said Michael during his talk, because data-driven marketing is how you differentiate your brand from the competition. But dirty data only leads to poor results. Since it's not the responsibility of the email service provider to keep data clean, be sure you're doing all you can on your end to have the best data possible. This includes sanitization to begin with, i.e. using validation services to ensure an email address is even valid, then regularly scrubbing your lists and practicing ongoing list hygiene.
Finally, make sure your logic is right when using that data. Michael gave the example of the car dealership that sent out carefully planned out emails that drew on customer data telling them when cars would be do for oil changes. The resulting emails were very specific in starting oil changes were due, the closest location to the customer for getting the oil change, etc. Unfortunately, they sent the emails to owners of electric cars. Electric cars don't need oil changes. Oops! So keep the data clean, but make sure the logic used for data-driven marketing makes sense.
5. Switching email service providers will not fix unrealistic expectations.
Sometimes marketers assume that any content is content of value, and they blame the ESP if their email marketing program is performing poorly by not engaging subscribers. However, responsibility for the quality of content rests squarely on the shoulders of the email marketer, not the platform provider. Is your email delivering content that does any of the following for your subscribers? If not, then revamp your organization's approach to content so that it does at least one of these and you should see an improvement in engagement:
Save money or time.
Educate.
Entertain.
Aggregate relevant information.
Provide special access.
Deliver unique information.
6. Switching email service providers will not fix reporting problems.
Email marketers these days have loads of data they can access, but they don't always have a way to analyze, interpret and act upon that data. Your current email service provider most likely offers you standard reporting that gives you metrics such as a click-to-open rate, so they can't be blamed if the insight is lacking. Instead, marketers can look for third-party options that will enable them to apply Business Intelligence principles to email marketing analytics, for insightful information that can be acted upon, such as recognizing trends. In particular, look for email analytics that are visually presented, because imagery is processed by the brain 60,000 times faster than words or numbers.
If reading through this information has convinced you that a new email service provider is not the answer but you're still unhappy, try reading our tips for improving your relationship with your ESP.
And if the opposite is true and you know now for certain that a new email service provider is what you need, try these two free tools to start your search:
The ESPinator, a free online tool that asks you questions then suggests your top three ESP choices
And, of course, you can always call on ClickMail for help in choosing a new ESP too!