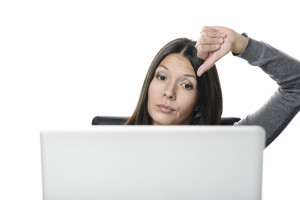 If you're in email marketing—and you probably are if you're reading this—you probably got the same email I did from an unnamed national marketing organization whose name rhymes with Bee Hem Way, one with a questionable subject line.
That subject line? "You're wasting your time."
Uh, what? Buy me a drink first, people!
Leading with a slight like that is an interesting tack to take, at best. You'd think warming me up before giving me the business might be more suitable, even though it's likely meant to be tongue-in-cheek. I once told a joke while at a funeral…it was born out of nerves, but imagine the shock to the grieving! Location, location, location.
I'm all about boldness, but in the proper time and place. The bold statement here might have been better off used in the preheader or somewhere toward the top of the creative.
The issue for me is one of the key determining factors as to whether I'll be reading an email is what the subject line tells me lies ahead. So saying I *am* wasting my time is a 99% chance of immediate deletion, for me.
I get the point they were trying to make. I question the way they did it, is all. They could have made the same point in a less off-putting way by just phrasing it differently:
"Do you feel like you're wasting your time?"
"Want to get more out of your time?"
"Get the most out of your time!"
"Honey, we're almost out of Thyme!!" 😉
OK, I am kidding with the last one. But in all seriousness, this subject line should pique my curiosity first, then let me find out why they're so special in the body of the email, as they deliver the goods and tell me what time-wasting cure-all they've got for me!
But to start out in that off-putting way? Well, I shan't be wasting my time. And maybe they could spend a little more time thinking through those subject line best practices.