If your email marketing program involves simply sending out sales content to lists of subscribers, you are missing out on much of the medium's potential.
Event-driven messages and triggered emails are super powerful when it comes to reaching your audience with personalized content that resonates and converts. This is based on two axes. One is the timing which can be very precise. The other is the content based on data and behavior. The success of this tactic is dependent on the email marketing or marketing automation software you are using.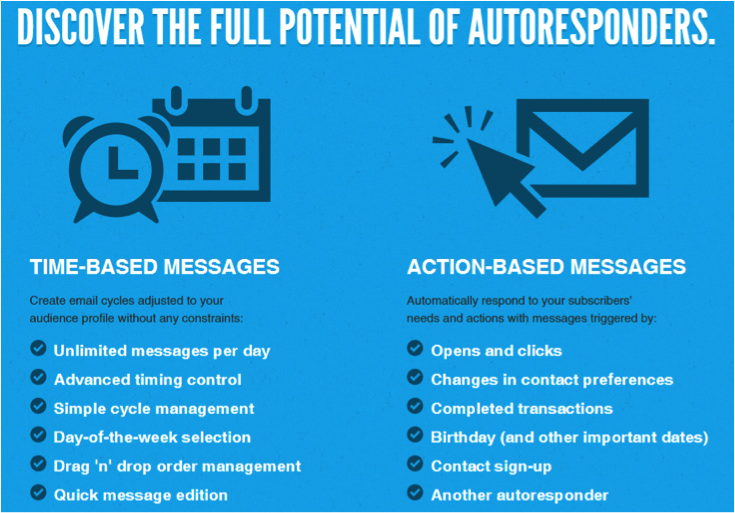 Through our email marketing software selection guide, we are very aware that where even having triggered emails once this was a big differentiator in the past, now the question is more refined. It becomes multi-faceted:
What is the level of sophistication your consumer expects?
What is the level of granularity that is vital to your email program?
How connected is that email to other channels and behavior in (multiple) channels?
Or to ask that other question: What is the simplest and most robust tool that will do what you want and need it to do?
Automated engagement magnets for high attention value
Email marketing has evolved beyond the static newsletter, and if you want to drive email marketing engagement as effectively as possible, you need to use today's sophisticated tools for dynamic delivery. Whether you are marketing an event, a product or a service, triggered emails give you the ability to move subscribers along the conversion funnel by customizing your message, segmenting recipients according to intent, and building a sense of urgency.
Even simple event-triggered campaigns were once in the domain of big brands with deep pockets using enterprise software. The development of email software is going fast and in recent years they've gone mainstream. They are now accessible and affordable even for small businesses. To give an example, here is an overview of the time and action based autoresponders of GetResponse.
If you can hold a positive relation between limited resources (time and money) and additional profit of your efforts, it means quite a lot. Because a positive email marketing ROI means that investing more will end up bringing in more revenue. Competition in SEO and SEA is killing and for many businesses it is hard to keep up with the number one and two competitors with the deepest pockets in that arena.
However, building a relationship with your own audience and possibly a strong customer relationship and brand equity (which can come in many forms) will pay off. Therefore triggered email that might have a smaller reach than newsletters to your complete audience are an interesting case, and mostly a one-time investment for setting it up and enjoying the fruits of that effort for as long as the trigger is active.
Triggered email tactics are catching on
In the Global Email Marketing Customer Reference Online Survey by Forrester, email marketers revealed their tactics and the strategies employed, sorted according to the duration of their use. The following top three innovative email marketing tactics were used:
Email triggers (45% more than 3 years, 39% 1 to 3 years)
Personalization (45% more than 3 years, 38% 1 to 3 years)
Triggered transactional emails (44% more than 3 years, 26% 1 to 3 years)
The use of triggered emails and personalization has almost doubled over the past three years among the surveyed companies. Keeping in mind that three years ago most companies were not capable of applying these strategies, this growth represents an impressive increase. Email marketing is alive and well, and the capacities in the enterprise market are seemingly growing. It implies that marketing in this segment is on its way up, to become more sophisticated.
Guest blogger Jordie van Rijn is an independent email and eCRM marketing consultant helping companies getting the most out of their digital efforts.