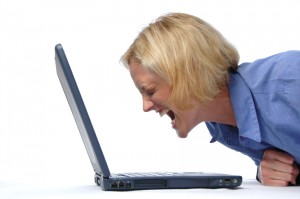 What makes you think you need a new ESP?
It's understood in our industry that on average companies typically switch email service providers (ESPs) every 2 years. Knowing how much work is involved in selecting an ESP, plus how long it takes to migrate from an old one to a new one, and then the time it takes to fully master the new one, I'm blown away by this stat every time I see it.
I don't doubt the number, though. As an email marketing agency and provider of email technology services, we at ClickMail see a lot of the shopping and switching going on. We regularly see companies dissatisfied with their ESPs, wanting to switch to a new one so they can finally get the customer service/ email deliverability/conversion/engagement/ROI/customization/etc., they've been craving. Although it seems to me marketers should just be getting into the groove with a new ESP just about the time they start thinking they need a new one…if they're switching every two years.
But is every ESP switch necessary? I don't think so. Sometimes the problem isn't the ESP.
What makes you think you need a new ESP?
Before you start down the RFP path, investing all that time and energy in doing an email service provider comparison, let's first ask if you really do need a new ESP, or if the problems are internal and fixable. Because it could very well be that the issue is an internal one (sorry, but it's true). Or it could be a case of miscommunication, or misunderstanding, or misplaced expectations.
Let's a take a look at a few of the reasons marketers decide they need a new email service provider, and see if you can maybe fix your problems without having to switch.
Reason 1: Blaming the ESP for bad deliverability
Many times people think the ESP is at fault for bad email deliverability when it's their sending practices that are too blame. Sometimes the fault does lie with the ESP, I admit, but too often people are quick to assume it's the ESP without delving into what's happening within the company that might be causing the problem. It could be poor list hygiene, boring content, bad coding, or a poorly managed sender reputation that's to blame, for example.
Reason 2: Being unhappy with the platform
A lot of times we hear "the platform is not working for us" when in reality it's not properly set up for them. Or it could be they want the ESP to do something it's not set up to do, when in reality, all they need is some ESP customization.
Reason 3: Wanting to use what you're used to
We also see companies switch to a new ESP when there's "a new wind / employee" coming in who is comfortable with their previous email service provider that they used at their former place of employment. In this case, there isn't a problem with the current ESP, but a timely and costly switch is likely to happen just the same.
Reason 4: Unrealistic expectations
Sometimes the relationship (like a personal one) falls apart due to unmet expectations, meaning the client thought they'd be getting more from the ESP than they believe they are actually getting.
Reason 5: "Surprise!" pricing
There shouldn't be any pricing surprises for the client if the ESP has disclosed everything and the client has done due diligence in determining the ESP's costs. But in the throes of seeing demos and signing contracts and migrating data, sometimes the finer points of pricing get overlooked, leading to unexpected costs later on.
Reason 6: Tuning out the ESP or agency
Sometimes the ESP has been trying to communicate with the client, but the client tunes them out. The client ends up feeling like the ESP is not communicative or helpful when in reality, the ESP had been pushing for improvement but in the end just gave up and moved on to working with more receptive clients.
Could your issues be internal? How can you be sure? You could also call in a neutral third party like ClickMail to evaluate the situation and make recommendations. We might find a way to improve your processes to enable you to get more out of your email service provider. Or it could be we'd agree with you and say it's time to start looking for another one. Either way, at least you'll know it's an objective expert's opinion you're working with, not a subjective internal one.
And sometimes it really is time for a new email service provider. If you've read through the complaints above and assured yourself that your ESP problems really are ESP problems and not internal ones, then the search for a new ESP commences. If that's the case, here are three resources that can help you jumpstart that search:
The ESPinator: a free online tool that will recommend the top three ESP choices for you
The Annual ESP guide: our annual guide to wisely choosing a new ESP
ClickMail consulting: because we're an ESP reseller, making our experts an invaluable resource for narrowing down your choices and saving you from timely email service provider comparisons
P.S. Thank you to Jordie van Rijn at EmailVendorSelection.com for chiming in on the reasons he typically sees for switching ESPs too!