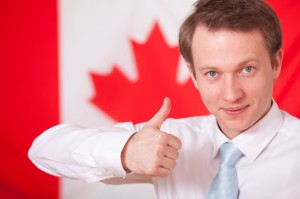 With the new Canadian anti-spam law taking effect this summer, we are getting questions from our email marketing clients as they take steps to ensure they're compliant. We've addressed some of the questions below in case you're also wondering about CASL compliance. And as far as the Canadian law vs. the American one, CASL compliance is more stringent than CAN-SPAM so we recommend simply complying with CASL because doing so means you'll be CAN-SPAM compliant too.
Disclaimer: Be advised that this resource includes our informed interpretation of CAN-SPAM (USA) and the Canadian Anti-Spam Law (CASL) and its applications. This blog post is for informational purposes only. We include it in our blog to help you better understand the law and how it might affect you. We at ClickMail are not lawyers and nothing presented below is—or should be construed as—legal advice. For guidance in regards to adherence with CASL, consult your legal or compliance department.
Q: Our opt-in policy is that when someone registers on our website and checks the box agreeing to the terms of the site (which states that we can contact them), that constitutes an opt-in. Are we correct in assuming that these people are opted in?
A: What you've described is called "implied" consent. While legal in the U.S., it is not in line with standard email marketing best practices, and we at ClickMail discourage it. As far as the new law, under CASL, you'll only be able to use implied consent for two years. Then you will need "express" consent to continue to send messages to Canadian subscribers. "Express" consent requires affirmative action. A pre-checked box does not qualify as an affirmative action. Also note that if you use "yes" and "no" check boxes for email signups, you can't pre-check the "yes" box so it's a default. If you change your processes to comply with CASL, you will be in compliance with CAN-SPAM and you also be following our recommended email marketing best practices.
Q: What about the subscribers we've already opted in using implied consent?
A: To comply with CASL, you will have two years to contact these subscribers and request that they opt in with express consent. This is the grace period for "implied" consent.
Q: We have a check box at the bottom of our registration page that says "I agree to the Rights and Use Information and have read the Privacy Policy," and in the Privacy Policy, it says "We may use the personal information you provide to allow us to contact you." Can we pre-check this box on behalf of the user?
A: Absolutely not! An unchecked box is correct because it requires affirmative action to be selected, but the question you are asking is wrong. Compliance with privacy terms is not considered an opt-in. This is especially true for mobile. You need to explicitly state that you may email them and have them agree to that. And if you ever want to text people, you need to get their express (not implied) opt-in to SMS. Texting and email require different opt-ins under CASL.
Q: Wait. Doesn't including this language and the check box give us the right to contact our registered users?
A: In the emails to people in the U.S., yes, but this is not even close to an email marketing best practice, and it could even be described as sneaky. In emails to people in Canada, this is illegal according to CASL. And it's illegal to SMS people without express opt-in, whether they're in the U.S. or Canada. Again, we recommend you apply the CASL rules across the board to ensure you're compliant in the U.S. too, and this will help you to follow some email marketing best practices as well.
Q: Do rules regarding what counts as an opt-in differ in different countries?
A: Yes. Canada just took the lead for the most stringent anti-spam legislation. We recommend you comply with CASL and you will be in great shape when emailing people in Canada and in other countries too.
For more information about anti-spam compliance in different countries, check out these web pages:
And of course, you can also call on ClickMail if you need help determining CASL compliance or any other email marketing best practices.