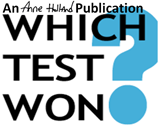 Have you done an A/B split test worth talking about? If so, submit it for a possible award! Today is the last day to submit an entry to WhichTestWon's Email & Mobile A/B Testing Awards. It's free to enter, and you'll not only get a chance to be recognized. You'll also be able to share your results for other email marketers to learn from.
A rising tide lifts all boats, remember!
To enter, go to http://whichtestwon.com/email-awards.