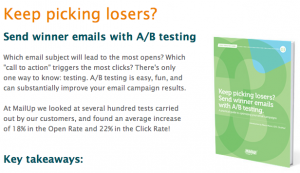 Test, test and test again…that's a mantra you'll hear a lot from this email marketing consultant, because it is only by testing that you can continually improve what works for your organization.
Why email best practices alone aren't enough
Email marketing best practices have their place, but testing is the only way to know for sure what your own email marketing best practices must be, because there is no "one size fits all" in this industry. Mondays might be the best send day for one company, yet Friday is for you. Research might say shorter subject lines are best, but it could be your audience responds better to longer ones.
And we don't have best practices for every component of an email anyway. How do you know whether a blue button will get you more click throughs than a green one? By testing!
Running A/B split tests is an easy way to slowly yet steadily improve your email program. When you making testing something part of every campaign, you'll only get better…and earn a better ROI.
New ebook makes A/B testing easy
If you're new to testing, or want to make sure you're doing it right, check out the new ebook from MailUp. Titled, "Keep picking losers? Send winner emails with A/B testing," it's worth a look because chances are even your best email can still be optimized in some way.
The ebook covers:
Why A/B testing? Discover what works best

for you

What should you test? Focus on email layout, design, and copy, but also day and time
How to execute an A/B test: Choosing your email and mailing size
How test results are black and white: Place your bet on the winning email
Examples of small changes yielding big results
And a checklist for you to use for your next A/B test
While creating this email testing ebook, the researchers at MailUp looked at several hundred A/B tests carried out by their customers over a 12-month period. They discovered that companies conducting A/B split testing saw an average increase of 18% in the open rate and 22% in the click through rate! Now that's a reason to test!
As Nazzareno Gorni, the founder of MailUp, says: "A/B testing forces even experienced marketers to stay humble. Only those that are willing to test their assumptions will find the key to more successful marketing efforts."