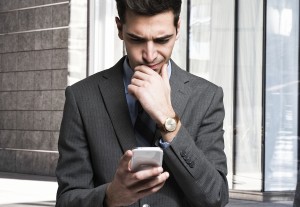 An article caught my eye the other day, about mobile email marketing being siloed away from other marketing initiatives at major organizations. Reading that got me curious about how mobile marketing is doing overall, as I wondered in what other ways marketers might be struggling with mobile.
I did a little research. It turns out marketers are struggling with mobile in a myriad of ways, which is ironic given how connected consumers are to their phones. It seems the consumer's adoption of all things mobile has been a faster, smoother process than the marketer's move to use that mobile mindset to sell products and services.
In digging into this, I came across five different ways marketers are purportedly struggling to make the most of mobile. Does your organization struggle with any of these?
Mobile marketing is siloed
According to information put out by VentureBeat, mobile email marketing is well-funded. A recent survey shows that organizations are putting much of their marketing budget toward mobile marketing, with almost 30% putting over half of their marketing budget into mobile.
However, that money is probably being inefficiently used because—regardless of the fact that organizations see the need to fund mobile marketing—mobile marketing is being treated like some kind of special case, isolated from other marketing initiatives. To quote the article:
Respondents are reporting, en masse, that mobile marketing is tacked on at the end of their marketing campaigns, that it is completely siloed, and that they lack the in-house talent to leverage the world's fastest growing marketing channel.
This means several negative consequences, including lack of data sharing, re-inventing the wheel as campaign content and designs must be re-invented for mobile use, and—I'm assuming—difficult to decipher email analytics, since mobile performance might not be integrated into the broader email reporting.
Siloed mobile marketing seems counter-productive to say the least. Any organization treating mobile as something "other" needs to integrate mobile into the overall marketing pronto.
Mobile email marketing ad spend lags
Although plenty of money is being spent on mobile email marketing, spending on mobile advertising apparently lags, from what I'm reading. Although consumers are more engaged with their smart phones than their computers, ad dollars tend to favor the desktop experience.
This article lays out the potential of mobile as a marketing medium, as well as the ways it can be utilized and why more money should be spent on it. As the article states, "…we're reaching a time where mobile spending should be more aligned with mobile behavior."
If your organization's ad spending is geared toward the desktop, give this article a read and rethink how you are—or aren't—spending on mobile opportunities.
Marketers overlook the importance of mobile-first content
Tied to the uneven ad spend is the issue of mobile-first (or even mobile-only) content. The potential for reaching consumers this way is huge. Consumers are now engaging with apps on their mobile devices for more than 37 hours each month.
Your organization might not have the big budgets of Krispy Kreme that will enable you to build big mobile-only campaigns, but you should still be mindful of how and how much consumers engage with content and media via their mobile devices—and how to frame your own content to fit that new paradigm.
Mobile marketers neglect timing
Then there's the timing of that content. Marketers seem to be lagging on getting the timing right when it comes to mobile. One study found that 63% of marketers push content out at the wrong time of day.
To improve timing performance, marketers can first be mindful of the problem, and the fact that we do live in a global world now, with subscribers potentially located worldwide. Second, marketers can seek out third-party solutions to help. For example, a service like iPost's GeoIP can help marketers know time zones and locations, to ensure content is pushed out at the right time (and in the right manner) for each segment.
Marketers struggle to track users across devices
Finally, in the fifth gap, we see a disparity between mobile email marketing and tracking results. According to a study done in 2015, the majority of marketers knew how much of their traffic came from mobile and which mobile devices. However,
Only 50% understood how mobile fit into the customer journey across devices and channels
Only 35% could track customers across different devices
Only 35% understood the nuances between tablet and smart phone usage
Without this kind of insight, marketers will struggle to achieve the kind of targeting and personalization they're striving for.
How goes the mobile email marketing at your organization? Are you suffering from any kind of mobile marketing gap, like the five described above, or have you fully integrated mobile into your marketing initiatives? Your consumers are all about mobile. Are you?