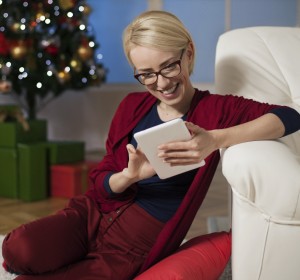 If you're in retail, you've probably seen the statistics about this past weekend's holiday shopping, with numbers up and down and all around, and pundits striving to make predictions about consumer spending and the economy, and all those topics that get discussed around the time of Black Friday.
For the email marketer, however, there's possibly only one topic worthy of discussion following the holiday shopping kickoff: the importance of mobile email marketing. Mobile not only proved to be a player over Thanksgiving and Black Friday, but did so in a way that means it needs to be a marketing priority all the year through.
First, however, let's consider how well mobile did over Thanksgiving and Black Friday, with some numbers pulled together by industry experts.
According to Chuck Martin in his post about mobile's dominance this past weekend:
Three out of five people shopping online on Thanksgiving Day were doing so on mobile devices.
On that day, mobile devices accounted for 2 million visits, 30,000 orders and $4 million in revenue.
Mobile activity increased from the same day last year, with the

mobile market share of all online revenue increasing 55%

.
Then there are these statistics pulled together by David Baker:
This Thanksgiving was the first one that saw more than half of online traffic coming from mobile devices.
The next day, Black Friday, 47% of online traffic came from mobile devices,

up 24.2% from the same day last year

.
Yet, many marketers failed to be mobile focused
With such a strong mobile showing, you might expect marketers to have been ready for this consumer move to mobile email marketing. According to Chad White, however, less than half of the major retailers were mobile first: "On or around Black Friday, only 47% of major retailers sent promotional emails that used either mobile-aware or responsive design."
Then there's the disconnect between the mobile email and the landing page or website it links to, a disconnect that can cause consumers to drop out of the buying process. When an email is optimized for mobile but the site it clicks through to is not, consumers might find only frustration when they were seeking sales. (See more about this all-too-common disconnect in this ExactTarget SlideShare.)
But…this isn't about the holiday shopping season
Here's my number one takeaway from all of these numbers and mobile's strong showing: Marketers need to use the early part of 2015 to get on the mobile bandwagon, and not just so they're ready for next year's Thanksgiving kickoff.
At the explosive rate with which people are switching to mobile devices as their first choice in the front lines of holiday shopping, marketers have to recognize that such a mobile mentality exists January through December too, and not just around the Thanksgiving weekend shopping frenzy. If emails built with responsive design and websites optimized for mobile perform better for holiday shopping, won't they perform better for the rest of the year too? I would bet money on "yes."
Switching to responsive design is not that hard. There's an initial investment, yes, but it comes with a long-term payoff, and it's something you can hire a company like ClickMail to do for you.
And getting your marketing to be mobile first as 2015 gets underway will only serve you better when next Thanksgiving rolls around, because the use of mobile will only go up.
To learn more about responsive design for your mobile email marketing, contact us.