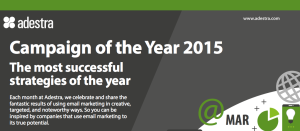 It's one thing to be told how to do better email marketing. It's another thing to be shown. And showing is just what Adestra has done in their Campaign of the Year 2015 report. Featuring the most successful email marketing campaigns run by Adestra clientele during the past year, this compilation is useful for every marketer doing email.
Featuring 12 real-life email marketing campaigns, with imagery, subject lines, goals, and details on the noteworthy metrics, this is one pdf sure to get you fired up to do more—and do it better and smarter. Download the pdf and dig into the details behind:
Soulmatefood's survey
Brand Events' segmentation
NSPCC's cart abandonment campaign
Blue Cross' personalized approach
Oxfam's automation
Celtic & Co.'s Black Friday win
River Street Events' pre-event campaign
Serenity Holidays' use of data
Stur's timely follow-up
Future Publishing's one-to-one approach
Harrod Horticultural's tapping into transactional data
And the big win for 2015, Media 10's use of testing and optimization
Download the pdf, gather your team around the conference table or computer screen, and get inspired to do better, smarter email starting now.
You're welcome.