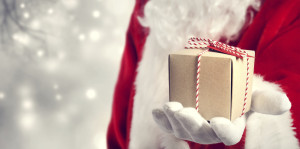 October is here, and you know what that means: holiday email marketing! Someone in the ClickMail office commented that Macy's has already put up their Christmas decorations, even though Halloween is still two weeks away. It's crazy! And it's the world we live in. So, back to my point: It's October, meaning it's time for holiday email marketing.
Maybe your holiday email marketing strategy is all planned out and ready to drop, or maybe not. In either case, there's always room to improve, and the holidays—being the busiest time of year for many Internet retails—are the time to pull out all the stops and improve as much and in as many ways as you can.
An infographic showing social integration as the highest priority among marketers' top four concerns this holiday email marketing season with got me thinking. How many email marketers really know what social integration means or is?
We are marketing in a cross-channel world. Consumers expect to be able to engage with your brand in multiple ways and to have a consistent experience across all channels. For the most sophisticated brands, a very sophisticated degree of social integration is possible, with an ad showing up in my Facebook feed based on a web page I visited or email I interacted with. If that's your perception of integration and you assume it's out of your budgetary reach, rest assured that a simpler degree of integration is both possible and highly recommended—as well as easy to achieve.
Integrating Facebook with your email marketing is an easy place to start, no API required and no reason to harass your IT department either.
Below are several ways to integrate Facebook and email in order to better serve your customers during the crazy holiday shopping season. In addition, you'll gain a competitive advantage as you grow your audiences (both email and social), leverage content, and collect data.
Build your audiences
Keep in mind that a loyal customer who gets your emails has probably liked your brand on Facebook too. He or she will want (if not expect) a certain level of integration across both Facebook and email. That makes it easy for you to use one platform to build engagement via the other.
Ask for email subscriptions on Facebook. Ask your email service provider for details. You should be able to add a tab to your business page that has an email signup form. Then occasionally post about subscribing to your emails, including the benefits of doing so. An example might be, "This week's sales just hit customer inboxes! If you're not yet a subscriber to our emails, sign up today so you can save too!" Even if you don't have a tab for signup, you can link to the landing page on your website.
The reverse of that is to ask for Facebook likes via email. Consider making this ask as part of your welcome email to a new subscriber, or periodically in your email messages. Do more than simply include the Facebook icon in your email template. Think beyond the button. Make the ask.
And since the holidays might bring new customers your way, asking for subscriptions and likes across both platforms increases your likelihood of adding them to your lists for future marketing post holiday rush.
Leverage your content
Another benefit to integrating Facebook and email marketing is the content you can share and repurpose—at no charge. You should be striving for consistent messaging across both channels. Being able to use the same content across both helps you be consistent and gives you more engaging content without any extra work on your part.
Easy ways to leverage content across both channels include:
Use customer comments from your Facebook page as email content.
Test drive subject lines by using them as Facebook posts and measuring results.
Use snippets of your email content as Facebook content, perhaps as a teaser to the email content, or simply because it's good stuff.
Collect data for better marketing
Collecting data is the third easy way to integrate Facebook and email marketing and gain a competitive advantage. When someone clicks on the Facebook sharing link in your email, add them to a new segment made up of your "socially engaged" customers. In the future, you might leverage Facebook more in your email marketing to this audience, perhaps by offering Facebook specific deals or by offering them a discount for sharing your content. Or maybe the email content they receive asks for reviews on your Facebook page, or includes more customer comments originally to your wall.
And obviously someone who subscribes to your emails via Facebook is socially engaged, so add them to this segment too.
Making your email more social is a goal to strive for all the year through. With the holiday shopping rush just around the corner, however, the time to integrate Facebook with email is now. I hope these tips help!
And if you need some extra help to bring about this integration—or if you're after a much more sophisticated degree of social and email integration—call on ClickMail!