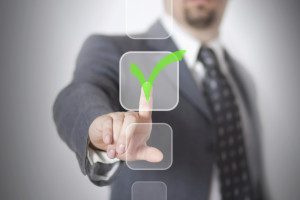 In an age of omni-channel marketing, with marketers integrating social media and email marketing campaigns and digging deep into Big Data, the phrase "double opt-in" sounds a bit, well, old-fashioned. Who's thinking about that any more? In other words, we've got bigger fish to fry these days!
But hold on. There's a little more to double opt-in than simply being extra diligent about the quality of your email list (although that's still a very good reason to use it). Using double opt-in might be a way to protect yourself when emailing to subscribers in other countries (if you're U.S.-based).
Consider the far-reaching effects of the new Canadian Anti Spam Legislation (CASL), for example. Although CASL does not explicitly require double opt-in, it could protect you should you need to provide proof of consent in the future. (You can find a detailed discussion about double opt-in and CASL in this MailUp blog post.)
In addition, there are several scenarios in which double opt-in makes sense beyond the compliance concerns.
Best practices for double opt-in
We're not saying you have to use double opt-in by any means, and if it's not required, in some cases single opt-in is enough.
If, however, your organization decides that double opt-in makes sense for your email marketing program, there are—as with all things email—some email best practices you might want to follow to optimize your use of the method. This came to our attention recently when a client asked for help with the messaging for a double opt-in email to be sent to their subscribers in Europe. This client is using double opt-in for all of Europe in order to avoid trying to figure out different levels of compliance for different countries.
When we sat down to think through the advice to give them on the messaging for this email, we realized there's plenty of talk about why (or why not) to do double opt-in but not much on how. So we pulled together some email best practices for you.
Clarity is key
First and foremost, you want this email requesting confirmation to be as crystal clear in intent as you can possibly make it so that these wannabe subscribers really do get added to your list. Anything wishy washy or unclear is unlikely to be acted upon and then what? You just lost a potential subscriber. If they don't open your email and click on that confirmation link, they're not outright refusing to comply with your request for a confirmation. It's that they are just as busy as you are, and their inbox is just as cluttered, and anything unclear is unlikely to get acted on. You'll see that every specific best practice we offer below has to do with achieving this clarity…
At the signup
Be very obvious at the signup stage that an email is headed their way to confirm their subscription. Do not assume that they will know it's coming. Rather state it loud and clear—perhaps while reiterating all the benefits of being a subscriber—so they know to watch for your email and take action when they get it.
The From name
As a new subscriber, they probably haven't heard from you before so your email will not be a familiar one in their inbox. Be sure to use an obvious From name (and not a donotreply!), perhaps testing to see what gets the best result.
The subject line
As with the From name, your emails are headed into the inboxes of people who don't usually see you there. And your subject line is doubly important (pardon the pun) because it will remind them that this is an email they need to open and act on. Use a subject line that conveys this urgency and necessity. It can be as straightforward as "Confirm your signup at ABC Company" or even a little clever, like, "Your first (offer) is ready, but first you must confirm!" Test subject lines until you find something that consistently works.
The headline
Clarity, clarity, clarity… Have I stressed this enough yet? If not, strive for clarity in your headline. Once again, remind them why they are getting this email and that they must take action to become a bona fide subscriber. Your headline can be something as simple as, "Almost there!" or "One more step…."
The message
Remind them that they only get your wonderful content if they confirm their subscription. You needn't be wordy. You only need state this all once again, that you're delighted they're subscribing and as soon as they do this one more little, bitty thing, they'll start to get your great content.
Although some say you should ask to be added to the safe senders list at this point, I argue that you should keep this email to just one message: confirm. Anything that distracts and therefore keeps you from getting that double opt-in should be avoided.
The call to action
And because clarity is key, be sure your call to action is bold, obvious and easy to click on (on mobile devices).
This example from Zulily shows how straightforward and clear a double opt-in email can be, with this headline, body copy and call to action all working together to get that confirmation:
Send a welcome email
Finally, send that first and ever-so-important welcome email so they know for certain that they've done their part to begin their relationship with you. This is also your chance to once again reassure them that they made a wise decision when they subscribed, and to deliver any incentive offered. In addition, this might be a good time to ask to be added to the safe senders list.
In addition to these kinds of specific email best practices, you want to ensure your deliverability rates are high and that you adhere to best practices in that realm as well—because your quality list won't get you very far if your first email doesn't even get to the inbox!