Is email marketing overly complex? Or do we simply need diagramming to help us keep up with the trends? And if we as the vendors are surprised at the rapid rate of change, how must our clients feel about it?
Fluent has tried to capture a sense of the current email marketing landscape with a graphical charting of the major categories and players. Only a fraction of vendors are included (it would be impossible to create a graphic including every email marketing vendor and have it be legible), but it's a great snapshot of where we are right now as an industry and who the major players are.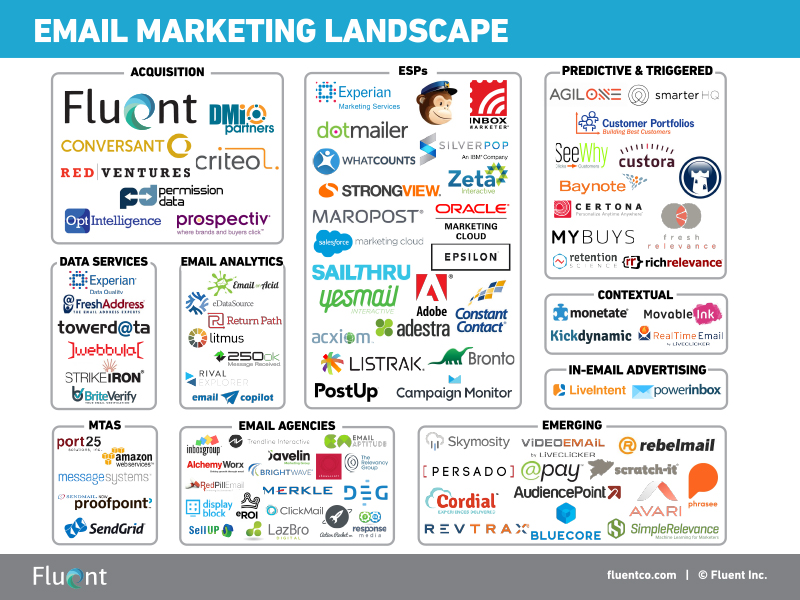 It's a complicated field
When Fluent released their first-ever charting of the email marketing vendor landscape, VentureBeat.com commented that email marketing technology is "ridiculously complicated." In a way, a visual representation like that created by Fluent is a tool to help us get a sense for the state of the industry at a glance, because yes, it is complicated (although I don't think ridiculously so).
Yet is it that the technology is complicated or the demands placed upon it are?
If you look at Fluent's diagramming of the top vendors in the space, you see the categories of:
Acquisition
ESPs
Predictive & Triggered
Data Services
Email Analytics
MTAs
Email Agencies
Contextual
In-Email Advertising
Emerging
(Disclosure: ClickMail is featured in the Email Agencies category.)
Just a few short years ago, the list of categories would have been much shorter, in addition to the vendors in the space being fewer in number as well. It has only been recently—with the rise of omni-channel marketing and technologies that enable capabilities such as predictive intelligence and dynamic content—that categories such as in-email advertising and contextual exist.
In fact, the industry landscape is changing so quickly that this is the second version of the chart already this year, and a third is promised before year's end. And just in the six months between the release of the original version and the updated one referenced here, category names have changed:
Validation became Data Services
Deliverability was renamed Email Analytics
Customer Analytics was merged with Recommendations & Remarketing to become Predictive & Triggered
So, yes, the email marketing landscape is a complicated one, but in a good way, one that shows the industry is adapting and vendors are evolving and meeting needs as they arise.
And it's our job as vendors to keep up with this rapid rate of change, so we can guide clients toward possibilities and help them make sound investments in the technologies that can benefit them the most.
I for one would much rather be part of a complicated industry that's keeping pace with both marketers' and consumers' demands, than be part of a slow-moving dinosaur that gets left behind by evolution. Wouldn't you?