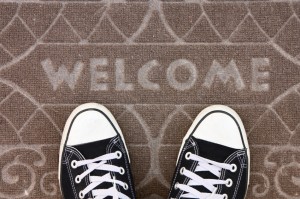 If you're a consumer, a welcome email is a welcome thing. Yet only about 50% of businesses send welcome emails. If you're in the segment sending welcome emails, kudos! The welcome email is the most read of every type of email you will send, and it's the first step in the right direction.
Now we at ClickMail are going to challenge you to take your welcome email to the next level, to raise it from being just one step in the right direction to many. How? With a welcome email series.
Welcome emails are among the best of the email marketing best practices, despite the fact that half of your colleagues aren't using them. The fact that you are gives you a leg up on your competition (if they're not) and a leg up over the other emails showing up in your subscribers' busy inboxes.
To leverage that single welcome email into even more than a higher open rate, turn it into a welcome series. If you send a series, you can gain five impressive benefits, which we've listed below as 5 reasons why you need a welcome email series:
Reason 1: Reinforce your brand
When someone gets a welcome email from you, chances are they are still fairly new to your brand. Your first communication with them can go a long way toward cementing their impression of you. Remember, you never get a second chance to make a first impression, but it's always a good idea to reinforce a first impression that's a good one! Your welcome email's tone, design and content can keep developing your brand in your subscriber's mind, especially when you're sending a series of them.
Reason 2: Build trust
A welcome series provides the opportunity to build trust with your new subscriber. Communicate with them about expectations such as the frequency of the emails they'll receive from you and what the content might be. Then by following through on these expectations, you prove that you deliver on your promises, which makes you trustworthy.
Reason 3: Gather data (for better marketing)
As you build trust through your welcome email series, you also have the opportunity to gather additional subscriber data. Rather than ask for a lot of information upfront, say at the signup stage (which may deter people from signing up!), you can earn their trust and ask for a little more information over time. This is a win/win for your brand and the subscriber, because the more information you have, the better you can segment, and the more relevant your email marketing will be in the future. Throughout your welcome email series, you might learn what kind of content they prefer, how often they want to hear from you, their location, and their gender, for example.
Reason 4: Promote engagement
As the subscriber warms up to your brand over the course of these emails, they'll be getting more engaged (if your content is good). Think of the first welcome email as the first step in a journey, or the first step in a relationship. Then over time you promote subscriber engagement, i.e. a longer, deeper relationship by continuing to do what we've already talked about: reinforcing brand, building trust and gathering data.
Reason 5: Improve email deliverability
As you promote engagement, you improve email deliverability. Your welcome email series trains your subscribers to recognize your emails in their inboxes, and, if you do a good job at that content, you'll be training them to anticipate your emails and even to look forward to them. Once the welcome series is completed and your regular marketing messages start, you've primed the pump as it were, and earned their trust. That means they're more likely to open your emails, which the ISPs recognize as engagement and use as an indicator that your subscribers want your emails, thereby improving your sender reputation and deliverability rate.
11 tips for a successful welcome email series
Now that I have (I hope) persuaded you to consider a full-blown welcome email series, here are 11 tips for doing it well:
Include "Welcome" in the subject line and the number in the series.
Use a real email address for the From, and never, ever use a noreply@.
Keep your promises and meet the expectations you set.
Focus on great content—every single time.
Treat the subscriber like a real person, one you want to get to know.
Do unto others…Don't send an email you wouldn't want to receive.
Provide complete contact information in each email.
Recap previous messages and provide a peek to future messages, for continuity.
Be in sync with your brand standards in each and every email.
Comply with CASL (because that means you're complying with CAN-SPAM too).
Test, test and test again to see what kinds of messages resonate, and the right number of them to send.
By carefully crafting a welcome series that meets your needs and the needs of your subscribers, you will be well on your way to building a list of engaged consumers who are likely to remain long-term customers and even brand advocates.
P.S. If you'd like help in creating and automating your own welcome email series, call on ClickMail.