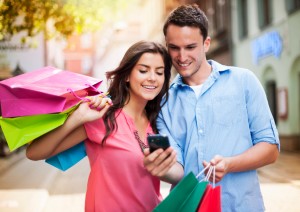 We've reached the tipping point at last: More than half of all emails are now opened on a mobile device. And people much more likely to rely on just that mobile device. Whereas in the old days, we'd check our email first on our smart phones then again later on a regular computer screen (if the email warranted further attention), nowadays that kind of "double viewing" is almost non-existent, with less than 8% of us doing it. Instead, consumers are much more likely to interact with emails on their mobile devices…and only their mobile devices.
But, alas, how do you know which device that is so you can design your email to render accordingly? Is it an iPhone using iOS 6? An Android with Gmail? A BlackBerry? Which BlackBerry? I could go on and on, but I'm fairly certain you're aware of the variety of mobile devices out in the real world…and I didn't even mention tablets or iPads yet.
That's the beauty of responsive email design: You don't have to know. For responsive design, you design for each device. Then the "responsive" part kicks in when the design delivered to each smartphone or tablet is the correct one because the design "responded" to the requirements of that device. Remember, we're talking about email marketing here—emails we need people to respond to by clicking on our calls to action. The better the user experience, the better the results.
Responsive email design gets results
A recent Yesmail study found that responsive emails on a mobile device perform better than non-responsive emails:
"Of all messages opened on a mobile device, 11.9 percent of responsive emails are clicked, compared to 9.8 percent of non-responsive emails – a 21 percent increase in the click-to-open rate for responsive layouts."
Still, taking advantage of the benefits of responsive email design seems to be the exception rather than the norm. For the study, Yesmail analyzed 5 billion emails sent by companies doing enterprise email marketing and discovered:
31% don't use responsive design at all
44% use responsive emails for

fewer

than half of all emails
24% use responsive emails for

more

than half of all emails
…and a mere 1% use responsive emails for

all

emails sent
Why are email marketers so unresponsive?
If responsive design can generate a higher click-through rate, why are marketers so unresponsive to responsive design? In part, because it doesn't always make sense. Although the study says only 1% of marketers are using responsive design for every single email, and that might seem odd at first glance if responsive emails perform better, responsive email design isn't always the best choice. For one thing, transactional emails like order confirmations don't need to be responsive (although they can be easily set to 100% and fill the screen without much coding).
It also could be companies aren't doing it because it's more work. Responsive email design requires more time at the outset, because you're designing for all the devices your subscribers are using with a mobile representation as well as your desktop version. It's is all done within one email, but you have to invest time preplanning the design and content to make the switch to responsive design.
However, there's a time and a place for making that investment, and not every email requires it, nor does every business have the resources to make responsive design happen, or even the email analytics to learn from to know how their audience is viewing their emails.
The price you'll pay if you're unresponsive
If it turns out that responsible design does make sense for your business' marketing emails, however, be aware that there's a price to pay if you decide to ignore it: A poor user experience.
Back when consumers were more likely to do the double viewing thing–checking email on a phone but actually dealing with emails on a computer–you might have been okay. They might have been interested enough in your offer to skip over your mobile version and wait for your desktop version. But when less than 8% are still doing that kind of double viewing, you're a lot less likely to get that second chance! That means more than 92% of the time, your mobile version is your make-or-break version.
What's someone likely to do when they open an email that renders poorly on their phone? Delete.
Should you be ahead of the curve?
There are a lot of really big brand retailers that still use all image emails and don't yet employ responsive emails. These are businesses with generous budgets and sophisticated email marketing programs. I can only assume they still send the all-image emails because those kinds of emails still work for them.
But not everyone is a big brand retailer with that kind of inbox recognition. For the rest of us–you know, the ones without the household name status and inbox panache—if we haven't yet started thinking about responsive email design, now is the time to do so. And it could be that being responsive now might just give you a leg up on the non-responsive competition later.
How do you know if responsive email design makes sense for your email marketing ROI? By learning from your email analytics. (And if your email analytics aren't up to snuff, it's time to check out eMVision for instant insight.) Your analytics should tell you who is using what—as well as who is responding to what—so you can make informed choices about where to invest your time.
At the end of the day, it comes down to if your audience is opening on mobile and what having that experience optimized means to you as far as the effectiveness of your email and the level of engagement.
This trend toward higher numbers of mobile opens and fewer numbers of people doing double viewing will only continue. Designing for a multitude of devices will become necessary, a trend you probably should "respond" to. ClickMail can help you get up to speed and make the transition.