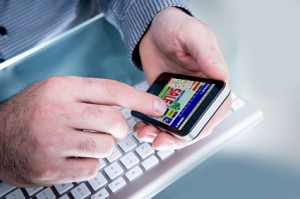 Now more than ever, we live in a world where getting anything is getting more immediate.  And the more immediate things become, the more people demand that instant gratification from everything—such as when shopping or researching online, especially when doing so on a mobile device.
That's why it's increasingly important for agile, cross-channel mobile marketing to be part of your complete emarketing strategy. Mobile is not only here to stay. It is here to become ever more prevalent. In the US, more people have smartphones than passports. And like passports, the harder it is to get into some place (like your website), the less likely a visitor is to want to spend time there or come back.
That's the importance of a great mobile experience. For perspective, take a look at Google's findings when exploring this mobile mentality. These statistics paint a picture of a culture that expects a quality experience on their mobile devices:
75% prefer a mobile-friendly site
74% say they're more likely to return a mobile-friendly site
67% are more likely to buy from a mobile-friendly site
61% say they go to another site if they don't find what they're looking for right away
52% say a bad mobile experience makes them less likely to engage with that business
50% say that even if they like a business, they will use that site less often if it isn't mobile-friendly
48% say a mobile-unfriendly site makes them feel like the business doesn't care about them
36% feel like they've wasted time at mobile-unfriendly sites
Consumers expect nothing less than an optimal experience on their small screens. They expect it now, and they will reward the business that provides it with their dollars and their loyalty.
All of these expectations described around the mobile experience apply to every aspect, from start to finish. Remember, your mobile mentality as a marketer can't end at the email. You must follow through on your mobile optimization. Mobile email marketing is a must-do, but so is mobile landing page and mobile website optimization.
You never get a second send to make a first impression
The mobile website battle starts in the consumer's inbox. If you're getting ignored or deleted there, much of your work to build a mobile-friendly site will be in vain.
Which brings us right back to the inbox and those mobile email marketing best practices that should be at the core of your efforts. From beginning to end, you need at the very least:
A great, clean, quality list
The best email service provider for the highest delivery rate
Relevant email messages
An engaged audience
A seamless transition to your mobile landing page or website
A mobile-friendly landing page or website
We can't do a thing to change the consumers' expectations of immediacy. All we can do as marketers is rise to the occasion and meet those expectations, starting in the inbox and continuing on the web. When we do, we win not just the sales, but the repeat business too.