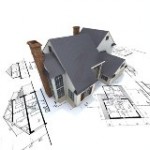 Day dreaming the other day, I started looking at house plans online. Doesn't everyone dream of building their own home someday? Well, if you're going to be looking for house plans, you'll find plenty on the Internet!
I like traditional style homes, like four squares and bungalows and shingle style homes. None of that contemporary stuff for me. And when you start looking at the drawings and photos of the houses, you think, "Ah ha, a traditional design, just like I want!"
Until you see the actual floor plan. They are quite often contemporary as can be on the inside, with open feels and huge family rooms and tiny living rooms and two story foyers that are a pain to heat.

Here's what happens when I find a home that oozes traditional on the outside but reeks modern on the inside: I'm disappointed. And then I don't like the look of the outside anymore either. I feel cheated and it leaves me with a bad feeling. (Obviously, I feel strongly about house designs.)
Here's the email parallel: When you trick someone into opening your email, either with a sneaky From name or a not-quite-honest subject line, you're sure to disappoint, not delight. Your From name and subject line, and sometimes what they see in the Preview Pane, these are the exterior of the house.
When they open your email and see the real contents and the real offer, and these don't match their expectations, well, that's just like me being disappointed to see the interior of the house I've admired on the house plan website.
Email marketing best practices require honesty. If you cheat to increase your open rates, you'll do more harm than good when you disappoint your recipient.
And they'll be less likely to open an email from you the next time.
Do you really want that? No, you don't. So make your exterior fit your interior, and welcome them on in to the email they really do want to get.