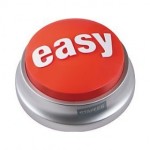 Have you ever gone to a dinner party that bored you but felt like you couldn't leave?
Some unsubscribe processes are like that. And they are the opposite of email marketing best practices.
A few years ago, I subscribed to an industry newsletter to help me get a better understanding of the industry, as we were taking on a new client, and that knowledge was useful. After a few good years, the client went away. (It was a government client, and the contract changed hands.) I still get the email newsletter I signed up for all those years ago. Every time a new one shows up in my inbox, I delete it, I no longer need it.

Finally I decided to unsubscribe and be done with it. But I can't.
Yes, in adherence to email marketing best practices, there's an unsubscribe link at the bottom of the email. But it requires a username and password. Neither of which I remember getting in the first place, and I certainly don't know them now, nor are they written down anywhere.
Offering the unsubscribe but then making it impossible to do so is like following the letter of the law but not the spirit of it.
Some email marketers see the unsubscribe option as a necessary evil, something they have to do to be CAN SPAM compliant. After all, they worked hard to get that email address onto their in-house list. Why would they want to let it off? So maybe they're asking for a username and password to discourage the unsubscribe? Who knows!
But making it hard to unsubscribe is bad for the brand, because it creates ill will, and it might lead to you being labeled as spam instead.
Make sure you're adhering to as many email marketing best practices as possible. Test your unsubscribe today. Make sure it's easy to find and easy to do.