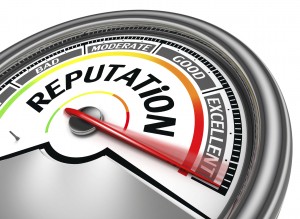 Because email deliverability is a big part of what we do here at ClickMail, we talk a lot about sender reputation. Yet is everyone clear on what is meant by sender reputation? A quick scan of past posts tells me this topic has been talked about but not actually explained. Until now…
Your sender reputation is just that: your company's reputation as an entity that sends email. Your reputation is determined and monitored by the ISPs for the purpose of keeping spam out of their customers' inboxes. Think of it as the first line of defense against the battle against spam.
Your reputation matters because it impacts your email deliverability. If you have a poor sender reputation, fewer emails will get past the ISPs and into inboxes. If you have a good reputation, more of your emails will get to their destinations.
If you're not sure how you're doing, Sender Score–a free service of ReturnPath—offers detailed sender reputation reports. You can find your score there. If it's less than stellar, then read on.
Although I can't give you a definitive list of all the ways your reputation is determined even by Sender Score, you can be fairly certain the following factors are considered:
Longevity
Send volume
Spam traps
Spam complaint rates
Bounce rates
Blacklists
There are likely other factors too, as each ISP and blacklist will have their own criteria. But these six are the ones you can tackle regardless. Here's how:
Longevity: The longer you've been emailing, the better. There's not much you can do about this one if you haven't been emailing for a while, but what you can do is strictly adhere to email marketing best practices so all of the email you do send only enhances your reputation…and therefore email deliverability.
Send volume: The bigger the number of emails you send, the more suspicious you'll seem, especially if you're all of a sudden sending significantly more email. If you have a large list, consider sending to only parts of it at a time rather than all at once. And definitely avoid a sudden increase in volume!
Spam traps: If your email list includes spam traps, that's a problem. You've likely been a little sloppy in your list building processes, so the first thing you need to do is review proper list building techniques and adhere to them, to prevent spam traps from landing on your list in the future. Then some clean up is in order in the form of list hygiene.
Spam complaint rates: As with spam traps, if people are reporting your emails as spam, you're kind of asking for it through poor practices. Most people don't report emails as spam because they really believe it to be spam. Usually it's an email they signed up to get, but then they tire of it either because the content no longer interests them or because they are getting emails to frequently. To decrease your rate of spam complaints, there are several things you need to do:
Make sure your email signup very clearly explains what people will get and when.
Be targeted and relevant. Sending generic mass emails is a great way to get spam complaints. So don't.
Use double opt-in. You might not get as many subscribers that way, but you'll know those who went through the double opt in really want to hear from you!
Make your unsubscribe ultra easy to find and do so people will use it instead of the spam button to say goodbye to you. (Note: Unsubscribe links don't have to be at the very bottom of your email in fine print.)
Bounce rates: Emails will bounce, for a variety of reasons, and there's nothing you can do about it. You can, however, minimize bounces by reacting when they happen. Hard bounces need to be removed from your list a.s.a.p. Soft bounces should be monitored to see if they keep on bouncing. If so, they should be removed from your list also.
Blacklists: If you find your IP on a blacklist, it's not the end of the world, but it does mean you need to review your email marketing processes and root out any that are less what white hat. You didn't get blacklisted by accident! In order to get your IP removed from a blacklist, you'll need to follow the procedures for that particular blacklist.
As with any reputation, your sender reputation is easily marred and requires regular attention, so you can catch any mishaps or misinformation along the way, before they become reasons for the ISPs to block you altogether and affect your email deliverability.
And you know ClickMail can help!