An undelivered email is akin to an email that was never sent. If you send 10,000 emails and 1,600 are never delivered (because your email deliverability rate is 84%), you might as well have a list of 8,400 names instead. And if we look at the number of emails that get delivered right to the junk mail folder, the problem can be even worse.
At ClickMail, email deliverability is what we describe as a consulting area of competence. We provide basic trouble-shooting, problem-solving, and best practices recommendations as part of our standard customer service because we know the only emails that count are the ones that make it to the inbox.
Knowing email deliverability is that important, all of our customer success managers are trained in basic deliverability concepts. We also have deliverability resources in-house, through our partner ESPs, and through relationships with third-party experts.
A systematic approach to email deliverability
We take a systemic approach to deliverability, one that looks at all the factors that influence a client's results, but this can still be a complicated and somewhat convoluted process. Although I've attempted to document the process in the following flowchart, I hope you can see that it simply doesn't chart well. In fact, it illustrates that this is an attempt to chart the unchartable: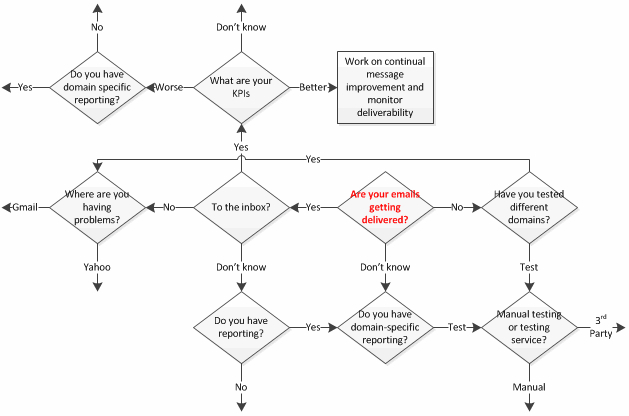 As you can see, it usually ends up being more complicated than I can successfully convey in a process flow like the above, which is more or less just the "tip-of-the-iceberg" when looking at a deliverability problem.
A better representation of the process might be this funnel, showing all of the components of deliverability and how they are intertwined: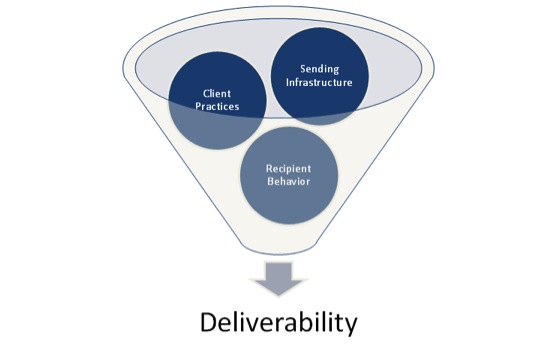 What does this consulting look like in practice? At ClickMail, first we start with the most basic of questions: What do we know? Are messages getting delivered? Then we look at the tests that may need to be run:
Test inbox vs. junk folder placement at major domains and filters. We employ a variety of tools for this, including these third party services:

Return Path
Mail Monitor
Email on Acid
MX Toolbox
And of course, good old manual verification where we set up our own accounts across the major inbox providers.
Test infrastructure and remedy authentication problems

Dedicated IP or Shared Pool

Was proper warm-up completed?

SPF
DK/DKIM or DMARC
Blacklists
Reverse DNS lookup
SenderScore/Reputation
Test content with SpamAssassin
We also work with the email deliverability experts at the ESPs on our clients' behalf to gather information and to communicate with the major ISPs

 
After investigating infrastructure, whether we find issues are not, it's time to ask: Are your mailing practices leading to any email deliverability problems? To do this, we look at the following:
Content

Recent changes
Quality of HTML
Support for Multi-part MIME
Coding practices
Similarities to email that is spam
Links
Rendering

Volume (were there recent changes?)
Frequency/cadence (is it consistent and predictable?)
List hygiene/engagement measures
Bounce management
Unsubscribe management
Opt-in practices
Opt-out practices
Preference center
Lastly, after looking at all the deliverability factors we can control, we look at what we can't control but hope to influence–the subscribers:
Source of opt-in (do some sources tend to cause more problems?)
Age of subscription
KPI history with key domains
We do not always go to the above level of detail when working with clients to solve email deliverability challenges. Sometimes we find glaring problems with clear solutions. But there are also times when we find that email deliverability issues were caused by a combination of factors that all need to be addressed before email deliverability returns to normal.
You don't have to be a ClickMail client to get help with your email deliverability, because we offer a service to anyone who might need it:  the ClickMail Deliverability Assessment (CDA). The CDA is designed for organizations that are looking to improve their email marketing program, whether or not they are a ClickMail client. This might mean you simply want to improve your email deliverability rate, or it could be you've experienced an issue and need help diagnosing and fixing it. Our CDA can help with either, and set you up with a roadmap for continued improvement and monitoring.
To learn more, call on ClickMail.