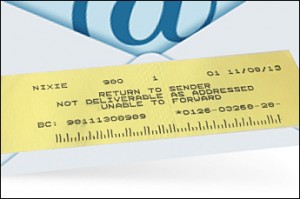 The size of your customer contact base matters little if the records you cherish aren't perfectly accurate. And judging by a recent study, chances are, they're not.
During December 2012, database marketing company Experian QAS commissioned a survey of over 800 business executives across the U.S., France, and the United Kingdom. The survey was conducted by research firm Dynamic Markets, and paints a grim picture of the high percentage of inaccuracies in customer contact data, inaccuracies that cost.
The survey discovered:
94% of the respondents suspect their customer and lead data includes inaccurate information.
Survey respondents said as much as 17% of their data might be inaccurate.
How does bad data happen?
Data inaccuracies can happen for a number of reasons. Customers might enter their contact information incorrectly at the point of sale. Data entry by a customer service person or sales rep might include a typo. Or it could be that the data was correct at one point, but the customer has simply moved away, either physically away from a mailing address or digitally away from an email address.
Bad contact data in email addresses can include email addresses no longer used and typographical errors in either the user's name or the domain name.
The cost of bad data
According to the report, the most common problem caused by inaccurate data is sending marketing emails or direct mail to the wrong address. The second most common problem is mistakenly sending multiple mailings to the same customer, because that customer is in the system more than once. These might seem like minor offenses to us as marketers, but they can be seen as major errors in the eyes of a customer or prospect.
A misspelled street name or inverted domain name might seem a minor error as well, but those minor errors can add up to big consequences. Consider the two costs highlighted by this report, both the loss of a customer and the loss of money:
Losing a customer: 29% said they lost a customer because of inaccurate data.
Losing money: 91% of companies suspect a percentage of their marketing budgets was wasted as a result of inaccurate customer contact data, on average 12% in the 12 months leading up to the survey.
In addition to the high cost of losing a customer and wasting money, there are other painful consequences to consider. In particular, inaccurate email marketing data can result in your organization being graylisted or even blacklisted for bounces, or for sending email to spam traps or typo traps. That means a lower email deliverability rate which translates directly into a lower ROI.
Fixing bad email data
These survey numbers are high, with 91% losing money due to bad data, and 94% suspecting as much as 17% of their data to be inaccurate. And these high numbers are despite the fact that 98% of the study's respondents claimed to have systems in place to manage the accuracy of customer contact data, either manual, automated or both.
Email marketing software can do many wondrous things…but it can only work with the data you give it. Obviously, these systems aren't foolproof, because we can't do anything about the fact that people make mistakes and customers move. Bad data is almost inevitable. So how do you fix bad data once you've got it?
List hygiene is the answer to what ails you. Set a schedule for scrubbing your in-house email list, whether it's once a month, or quarter, or year. Then stick to it.
Preventing bad data
Most of email marketing lacks quick fixes but preventing bad data does have one quick fix, albeit a tough to swallow one: double opt-in. Many marketers fear requiring a double opt-in because not everyone will follow through and subscribe twice (once at your website, a second time after getting an email from you). Marketers using double opt-in tend to have slower list growth as a result.
However, double opt-in can mean a quality (vs. quantity) in-house email list that is more responsive to your email marketing. We have seen one study that showed a dramatic difference between the results achieved by marketers using double vs. single opt-in. For example, double opt-in ranked considerably higher for opens and click throughs. On the other hand, marketers using single opt-in had higher rates for bounces and unsubscribes. Which sounds better to you?
If bad data is costly, maybe good data is priceless.