If you're looking for a quick way to make a big impact in your deliverability and response rate, consider list segmentation. With email marketing, relevance is key. You want to target your email content, offers, and even subject lines to match the interests of each recipient.
If your email marketing solution enables your relational database to generate messages using dynamic content for specific contacts on the fly, more power to you. But you can gain much of the same advantage simply by segmenting your list. By dividing your colossal in-house list into groups that  share a unique and exploitable need or interest, you can build and send messages that focus on those criteria.
Segmentation for relevance not only increases the appeal of your message (and hence click-throughs), the smaller volume sends improve your deliverability by reducing inbox deletions and spam complaint rates. According to Marketing Sherpa, 47% of email recipients click the spam button rather than looking for the unsubscribe link when they no longer want to receive emails.
Ways to segment your list
Some possible ways to segment your list include:
Lead vs. customer
Gender
Geography/ZIP
Age
Job title/role (for B2B)
Real life job/role (e.g. student, parent, runner…for B2C)
Last purchase date
Last purchase method (online vs. brick and mortar)
Amount spent (customer tier)
Number of emails you've already sent them
Inactive subscriber
The possibilities for segmenting are almost endless.  But our advice is to keep it simple at first.
Common segmentation practices: here's the breakdown
Some large email marketers are practicing extremely sophisticated segmentation techniques. According to a MarketingSherpa 2010 benchmark study, 57% of marketers segment based on behavior, 47% use a preference center, and 46% are using triggered emails (one of most effective ways to be relevant).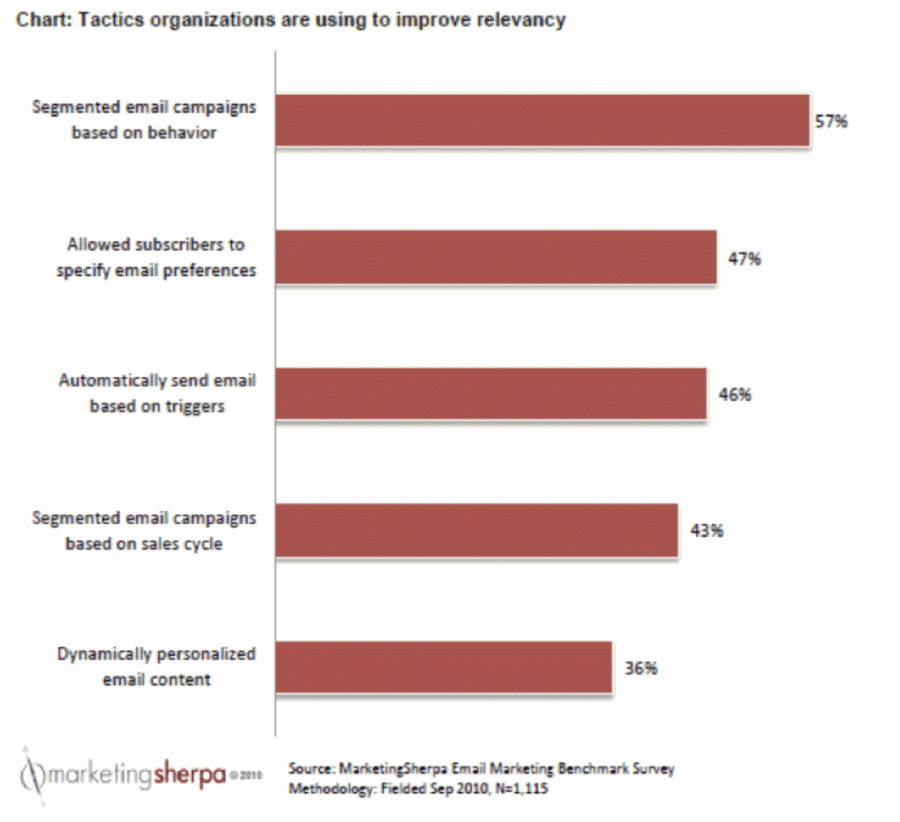 Yet nearly half of marketers don't practice any kind of sophisticated segmentation, perhaps because they simply lack the time, technology, or staff hours to do it.
A segmentation strategy doesn't have to be complicated. Simply adding one additional layer of knowledge to your database (beyond name, address, and contact info) can help you take your relevancy and level of engagement up a notch. Try adding additional demographic or other useful criteria (such as preferences) to your list, and even your opt-in forms.
You may even be able to think creatively and segment using the limited data you already have, such as location, and use this to drive subject lines and offers. For example, "Pre-Winter Offer Exclusively for Oregonians."
Segment over time
And what's better than one more layer? Two or three or even more. The more data you collect about subscribers, the more relevant you'll be.
Add segmentation data gradually so as not to seem nosey or overwhelming. As subscribers trust you, and especially when they progress from lead to customer, they will be willing to share more information with you, through surveys or additional fields on order/download forms.
Use that data
As you gradually apply layers of segmentation and collect additional data, put that data to use in innovative ways. Come up with relevant offers and subject lines. Try A/B tests of different subject lines or creative (such as photos or headlines). The more you know, the more relevant you can go. More specifics mean more clicks.
Like all one-to-one marketing, the most powerful email would seem like it came from one writer to just the person reading it. (If that's not your goal, maybe you should be writing billboards.) The closer you get to matching the offer to your intended target, the better. If you do a good enough job at email list segmentation, you can be almost as effective as if you were using some fancy data-driven personalization technology…and perhaps a lot less creepy.