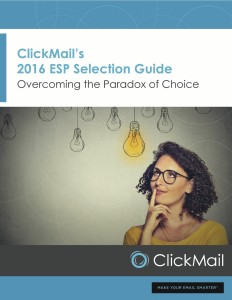 It can be overwhelming trying to do an email service providers comparison when you have over one hundred to choose from. How do you narrow down your list to a manageable size?
Plus most do more or less the same thing: send lots and lots of emails. That makes it hard to understand the differences, but it's also a challenge to keep up with the constant change that makes an email service providers comparison harder than ever before.
There is a solution, however: the annual ESP guide produced by ClickMail. Every year, we take stock of what's going on in the world of ESPs and produce an up-to-date guide for you to use to narrow down your choices.
Topics covered include:
ROI
The Platform
Relational Databases
Email Deliverability
Omni-Channel Marketing
Email Analytics
And more, much more
If you're shopping for a new ESP, download the newly updated 2016 ESP Guide and overcome the paradox of choice that marketers face in 2016.
With this guide by your side, you'll be able to sort through the options, focus on a few potential matches, and choose the ESP that can meet your needs today and tomorrow—no matter how things change.
Get your free copy of this essential ESP guide today!